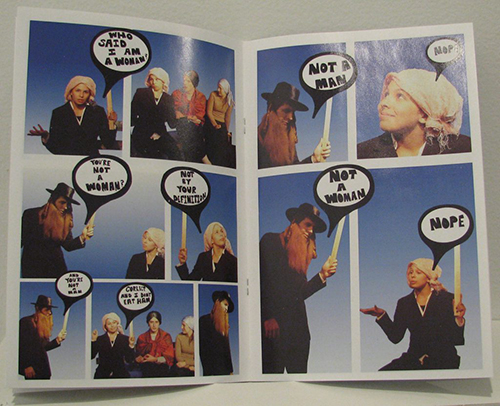 Purim is a holiday that is known for 'reversals.'
Firstly, the Jewish people are saved by a woman (Ester); unusual in the Jewish story. Second, God is not mentioned anywhere in the Megilat Ester (Scroll of Ester). Third, it is a commandment to drink until you don't know the difference between Mordechai and Haman (representations of good and evil respectively). And finally, it is the one time where Jews are allowed to dress in the clothing of the 'opposite' gender. Customarily during Purim, Jews write and perform skits (shpils) that are over-the-top reflections on life. This leads to a raucous holiday with a carnival-like atmosphere.
In this comic book, the artist investigates the daily life of the tumtum through the lens of the Purim Shpil.
Medium: Paper, photography, ink